I have a love-hate relationship with my curly hair.and it's now wavy, or curled. It's curly, and to be precise a 3B. Yes! I've googled my own hair type, I am that obsessed with it.
But since I'm learning how to manage it properly, I've wanted to share the reality of growing up with curly hair.
1. Having my mom brush my locks into oblivion and turning out into a squirrel's tail, like literally
2. Finding lost pens after a school day in my hair
Yes, my friends were awesome. (Sarcasm much?!)
3. Getting bangs is really weird especially in the growing out phase
They'll just stick out! 4. Curly vs. Curled
I used to get jealous of those with curled hair that looks beyond beautiful in pictures, while my hair is curly and sticks out in all directions. But after that I was like I love it
5. Googling different curly hairstyles
But getting curled girls doing their thing. OK! Now how will that help me?
6. I have two personalities: Straight and Curly
It's like dating two different people
7. Straightening it takes a long time and lasts depending on the forecast 
One hour to get it straightened, and two if I'm straightening it myself
8. People telling you: "Your hair looks amazing straightened"
Translation: You don't look amazing ever
9. Dealing with people having to touch your hair!
Don't! Just don't! You'll anger the beast 10. Brushing it on a daily basis is out of the question
I only brush it in the shower, or when I plan on straightening it/getting it straightened!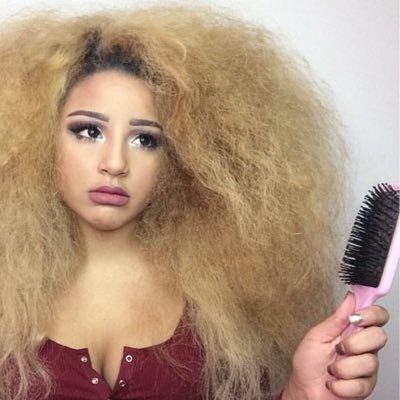 11. The moment you discover the use of a diffuser
It's the moment of pure happiness and joy. It's love at first sight
12. Once you learn to love your curls, you realize they are perfect as are you
Much love,
xoxo
Follow me on Social Media: